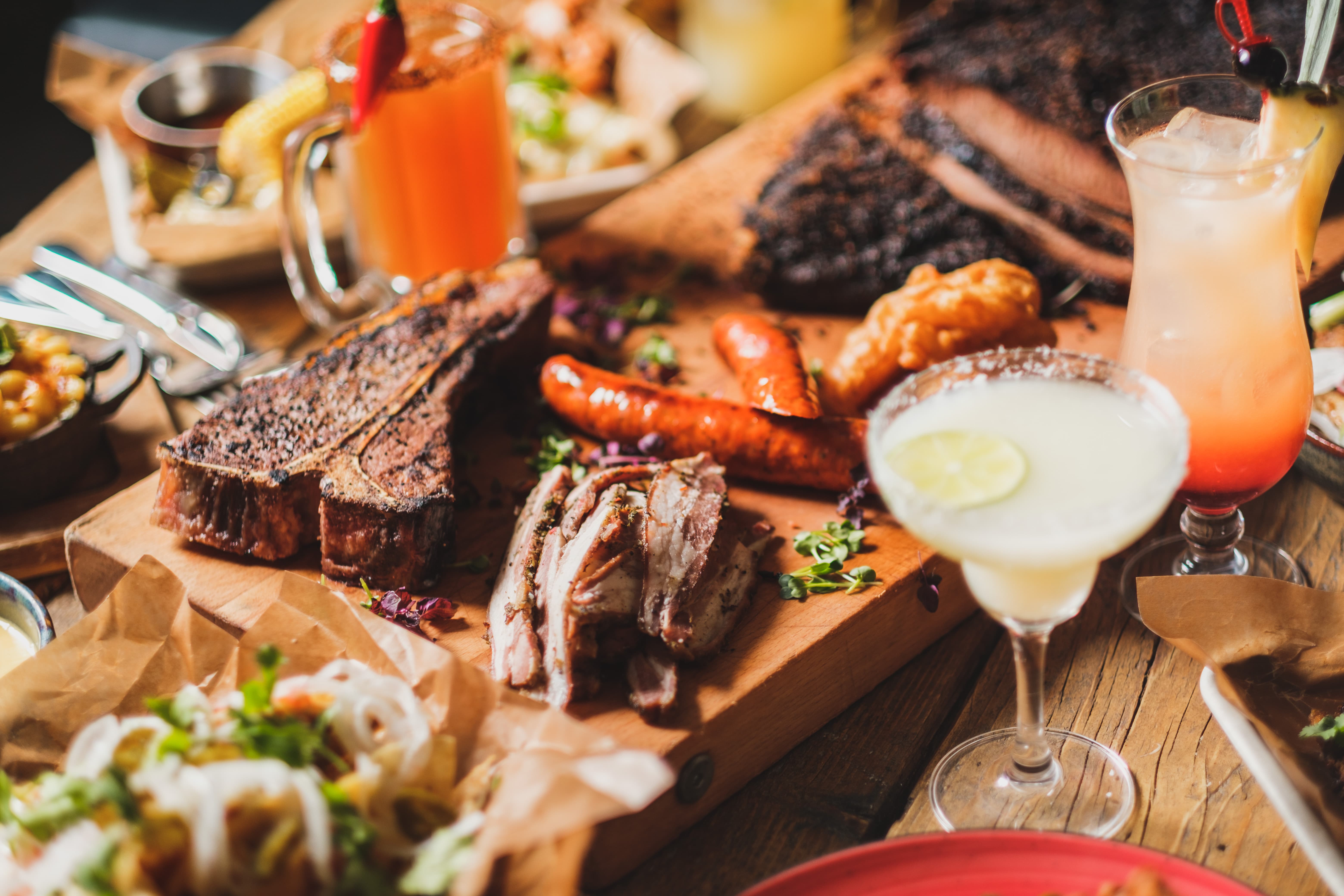 Mo-Tue 16:00-21:00
Wed-Thu 16:00-22:00
Fri-Sat 16:00-22:30
Dips
50:-

35:-

25:-

25:-
20:-

20:-

25:-

25:-
Sides & Snacks
55:-

Fresh corn tortilla chips

85:-

Nachos con amor

melted cheddar, jalapeños, sweet onion and pico de gallo.

65:-

Halloumi Fries

With chipotle

45:-

Skin on fries

With chipotle
55:-

Sweet fries

With chipotle

70:-

145:-

Bob dip

Minced meat, queso dip, jalapeños, guacamole, sour cream, pico de gallo served with nachos.
Starters n' small dishes
...to share or keep for yourself!
129:-

Quesadillas

Wheat tortilla with chicken and smoked cheddar topped with pico de gallo and sour cream.
135:-

Crispy chicken drumsticks

Deep fried chicken with our own hot sauce, maple yoghurt, radishes, celery and sweet onion
Mains
349:- for one / 640:- for two

All in BBQ

Brisket, nashville hot chicken and our own sausage served with mac n cheese, creamed corn, pickles, sweet onion, coleslaw, bbq sauce, hot sauce and bread

265:-

Brisket plate

Smoked brisket with mash, pickles, sweet onion, pickled red onion and gravy

245:-

Chicken fried steak

Southern classic made with beef and served with green beans, creamy gravy and mash
225;-

Austin hot dogs

Two own sausage with brioche bun topped with sauerkraut, sweet onion, mustard, chipotle dressing and pickles served with fries

229;-

Fish taco

Wheat tortilla topped with deep fried fish, guacamole, pico de gallo, onion chili dressing and cabbage
(can also be made with beans 219)

Nashville hot chicken sandwich

with mayo, pickles, sweet onion, pickled onion and fries
Sweets
105:-

Deep fried snickers

Served with vanilla ice cream and caramel sauce
105;-

Smores dip

With our own chocolate chip cookies
For the kids!
125:-

Cheese burger

90g beef burger with lettucce, tomato and onion served with fries.

125;-

Mac n cheese

with our own sausage
125;-

Fish and chips

with mayo, luttuce, tomato and pickles

Deep fried chicken

with mayo, lettuce, tomato, pickles and fries
Mon - Tue

Wed - Thu

Fri

Sat

Sun

Closed